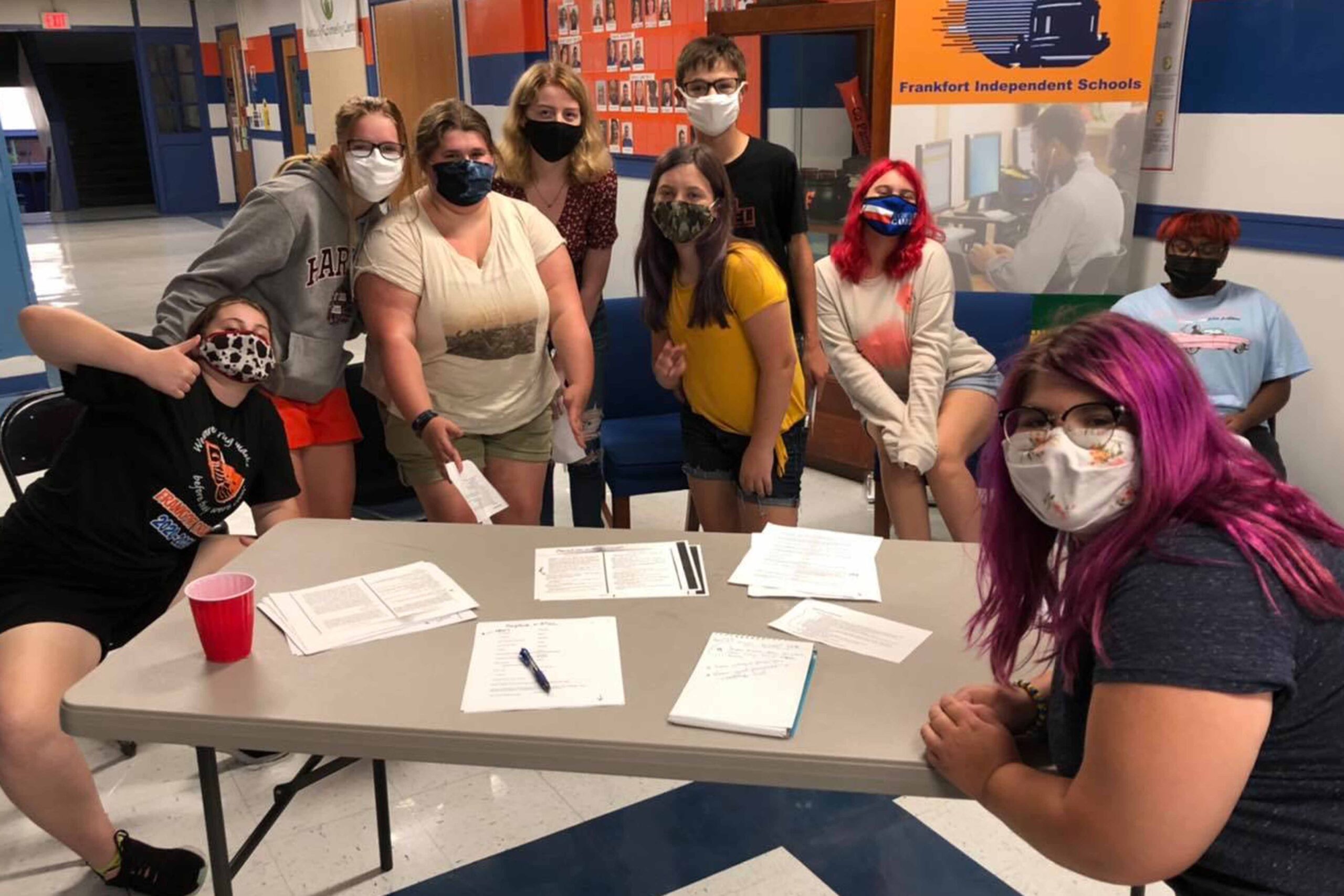 What should I expect during my audition?
Frankfort Drama auditions are informal, relaxed and low pressure. Our auditions consist of cold readings from the script. Actors will be called back to read in front of the director in small groups. As with all of our activities, we view auditions as just another part of the learning process for our theatre students. Generally, we have to move very quickly in the audition room. So, there may not be time for the students to read a lot of different parts.
How do I need to prepare for auditions?
You don't need to do anything special to prepare for auditions. Selections from the script will be available for review once you check-in.
What is the director looking for during my audition?
The Director is Evaluating:
the actors ability to follow directions
the ability to work cooperatively as a team
 effective use of the "actors toolkit"

  Voice – Rate, Projection, Clarity, Inflection/Expression, Pitch
Body – gestures, facial expressions etc.
Brain – creativity, focus/concentration
Auditions are NOT a reading test. Actors shouldn't worry about reading mistakes or stumbles.
How does the director cast the show?
There are many factors that go into casting decisions. Casting a show is not an easy task. Students shouldn't try to take "cues" away from the audition room. Their conclusions are often inaccurate. No decisions are made the night of auditions. As you will see below, the student's "performance" in the audition room is only one factor.
Factors that come into play during casting decisions:
Schedules – Students with busy schedules are less likely to get bigger roles. Students have "lost" a major roles in the past due to multiple scheduling conflicts.
How the actor's "demographics" relate to the characters – older students are more likely to get older character roles
Previous Roles – Mr. Tippett trys to offer a variety of different opportunities to as many students as possible.
Quality of audition performance – based upon factors listed under "what is the director looking for during my audition?"
Ghost Walk & Myth Adventures
COMBINED Auditions
Friday 08/18/23
SSS students in grades 2-8: 5:30-6:30 PM
FHS students: 6:30-7:30 PM
Karen Kimmel Hatter Auditorium
PLEASE ENTER USING THE ALLEY SIDE DOOR. You must check in at the desk in the front hallway. No preparation is needed. The audition will consist of cold readings from the script.
GHOST WALK
Student Director: Lucy Saunderson
Auditions open to SSS & FHS students in grades 2-12. Students in grades 2-4 will be considered for mini-ghost parts. Students in grades 5-12 will be considered for ghost or guide roles.
PRODUCTION DATES – Oct. 27, 29, 30 & Nov. 1st, 2nd
MYTH ADVENTURES
Student Director: Kylee VanAtter
This is our 2023 entry into the KTA High School Festival. Therefore, these auditions are open ONLY TO HIGH SCHOOL STUDENTS.
The KTA Central Regional Festival will be held Saturday, October 28th. You must be available ALL DAY in order to participate in this production.